GENIUS SOLAR PUMP KIT
GENIUS Solar Pump Kit from 2500W to 8500 kW. High performance without fuels!
With "GENIUS Solar Pump Kit" you can create a solar plants for sustainable water pumping applications. GENIUS PC controller is able to convert DC voltage coming from photovoltaic panels into AC voltage for powering any pump driven by three phase asynchronous motor. Pump speed is constantly adapted to available solar irradiation maximizing the amount of pumped water and making possible operation even in low irradiation conditions.
GENIUS Solar Pump Kit can be applied for all public and private solutions.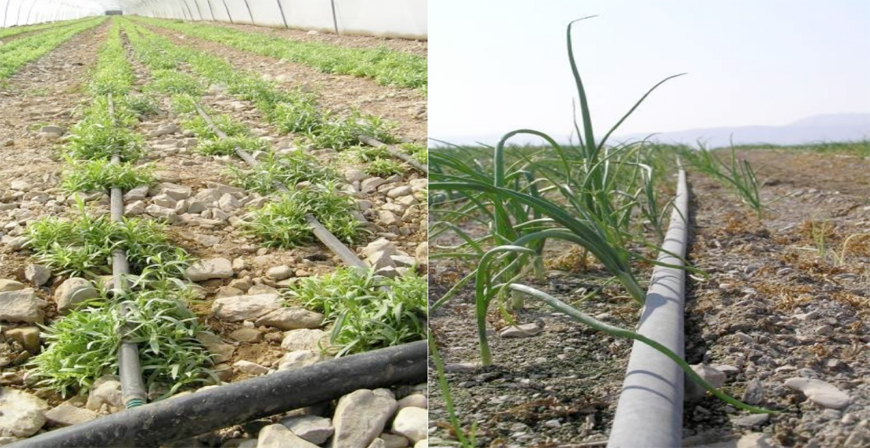 Applications
Public and private water supplies
Animals drinking trough
Agricoltural irrigations
Desalinator plants
Industrial washings plants
Etc…

Variable speed submersible pumps. PV panels, Inverter, motor, pump: all integrated in a kit!
Photovoltaic panels supply
SP4 pumps can be fed both AC and DC with wide margins of operating voltage (90-270 VAC or 90-350 VDC). It means that the same pump can be powered by mains electricity sources, by multi-fuels generators, by wind or photovoltaic panels plants or batteries.
The hydraulic performance will be adjusted automatically according to the source and the available power. In the application with photovoltaic panels the MPPT (Maximum Power Point Tracking) maximizes, for various conditions of irradiation and temperature, the electric power obtained from the panels the amount of water extracted. When solar irradiation increases, pump will run faster pumping more water. When solar irradiation decreases (for example: clouds moving or different hours of the day) pump will reduce its frequency and the flow; but it continues pumping till solar irradiation reaches the minimum value necessary for working.
Our technical department is able to develop the GENIUS Solar Pump Kit installation sizing plant depending on application area and hydraulic performance aims.

Multi power supplies adaptable!

Characteristics
Photovoltaic centrifugal water pumps
Powered by brushless DC Motor for long life
Direct power connection with no batteries
Heavy-duty construction entirely made of stainless steel "304"
PC Controller with high tension, high current and dry well protection integrated
Complete pump protection against over-voltage
Water proof and UV rays protections
Water level sensors for "Full tank"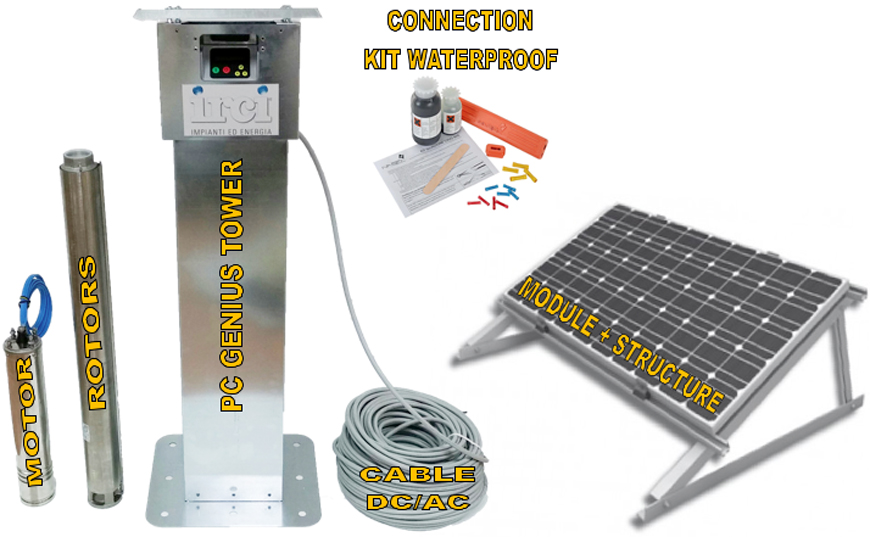 Strength's Points
Available in full kit for immediate functionality
Wide range of power and models (available for vertical and horizontal)
Easy to install
Functioning without battery
Very high efficiency
Eco friendly
More Longevity & Hygiene
Highly durable
Maintenance free
PC Genius wiring detail
How to Apply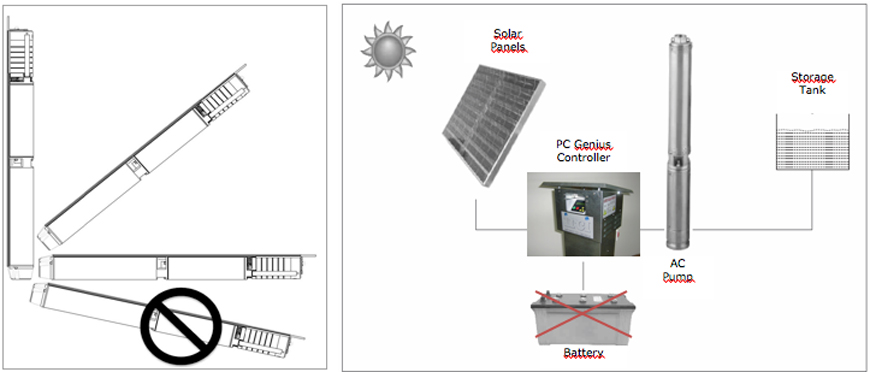 Performances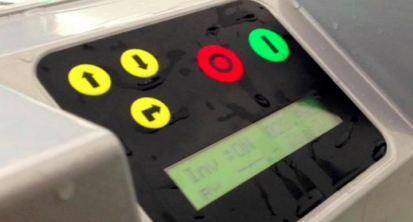 In the application with photovoltaic panels the MPPT (Maximum Power Point Tracking) maximizes, for various conditions of irradiation and temperature, the electric power obtained from the panels and the amount of water extracted. When the irradiation grows, the pump increases its rotation speed and so water flow increases. When the irradiation decreases (for example: passage of clouds or different times of the day), the PC controller reduces the frequency and the flow, but continues to provide water until the irradiation does not fall below a minimum necessary to ensure the operation.
Multiple operation modes
GENIUS PC Controller, apart from MPPT control, offers other several operation modes such as:
Fix frequency operation with 1 or 2 reference values selectable via digital input.
Operation by external frequency reference adjustable via analog input 4-20 mA or 0-10 VDC (trimmer).
Operation at constant pressure with 1 or 2 reference values. This last operation mode is particularly indicated in those plants where it' s preferred to store electrical energy in batteries and use it when it occurs.
To ensure maximum energy saving, and lengthen batteries file, it's useful to select constant pressure mode in which the pump speed, and so the power consumption, is varied while maintaining a constant desired pressure.
Parameters monitoring
GENIUS PC Controller is equipped with a backlit alphanumeric display and it's designed to monitor key electrical parameters such as input voltage, power, current and motor power factor. It's also possible to connect a pressure or flow sensor detecting provided performance. In the diagnosis menu are recorded inverter and motor hours, operation statistics, and the last eight alarms occurred. The programming menus are password-protected to prevent unwanted tampering.
Advanced connectivity
GENIUS PC Controller allows to connect:
An alarm signal
A motor run/stop signal
A pressure sensor or a flow sensor for performance monitoring
Up to four digital inputs for pump start and stop (float switch, level sensors, etc …)
Complete pump protection
GENIUS PC Controller is entirely built in aluminum to be water resistant ensuring maximum durability. All metal parts are certified AISI stainless steel 304 corrosion resistant. IP65 protection degree makes possible installation even outdoor. Two independent external fans and an internal fan provide to ensure a perfect cooling. GENIUS PC Controller also protects itself against over-temperature and the membrane keyboard-cover protects the display from UV rays.
Easy installation
GENIUS PC Controller can be fixed to the ground with its metal tower. The integrated fans are easily replaceable in case of failure or maintenance.
PUMP SUITABLE FOR 20/30 METERS DEPTH (60/90 feet)
Photovoltaic Power 2500 Watt
With 1.5 kW Power at motor shaft, one string of 10 PV modules of 250 W each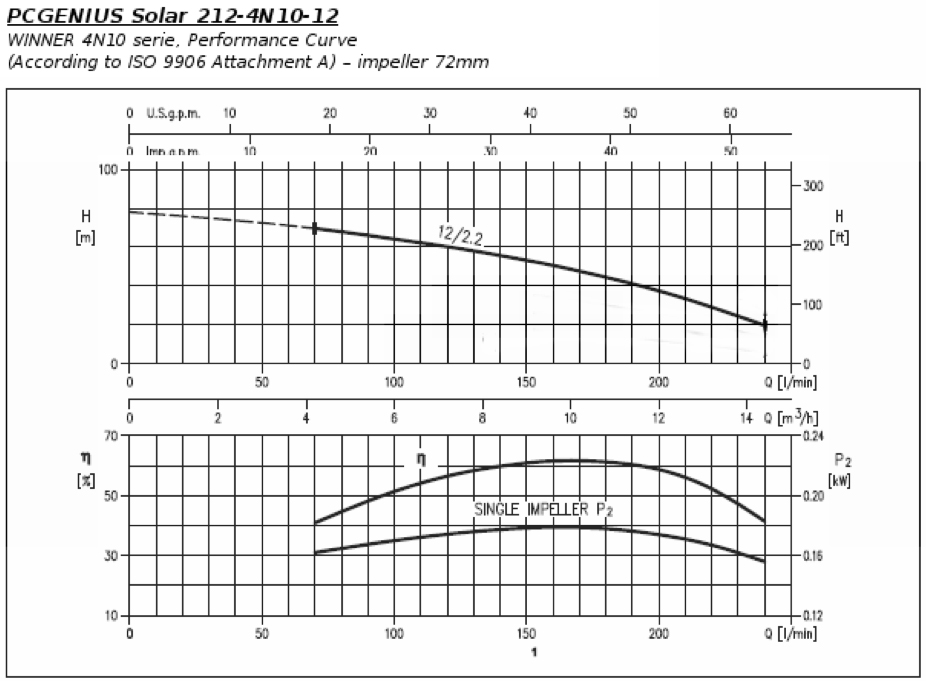 Photovoltaic Power 4250 Watt
With 3 kW di Power at motor shaft, one string of 17 PV modules of 250 W each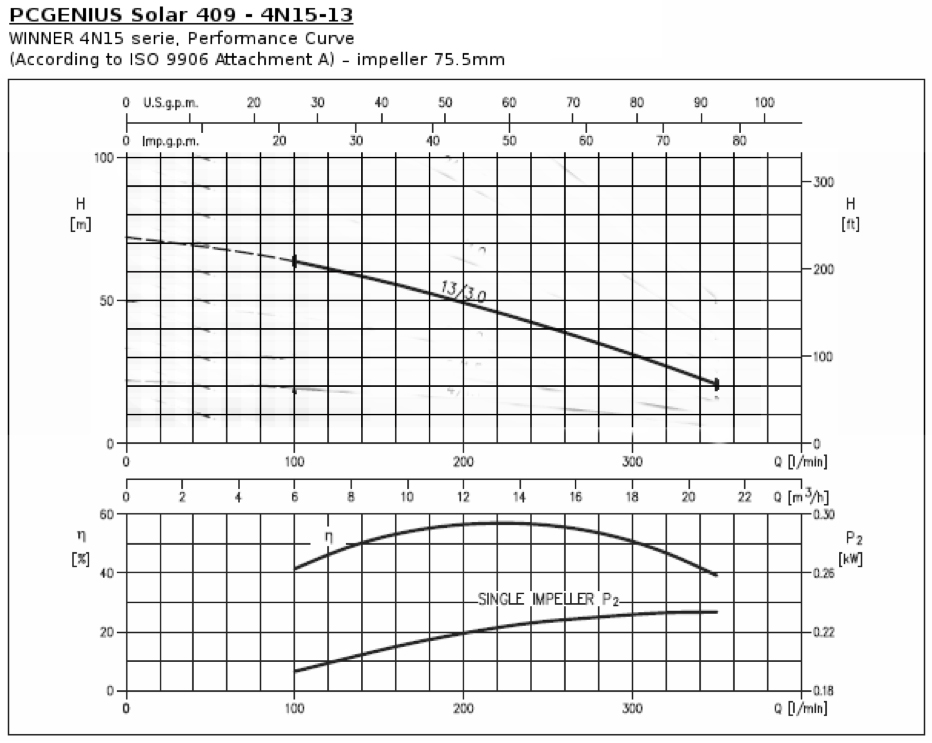 Photovoltaic Power 8500 Watt
With 5,5 kW Power at motor shaft,2 strings of 17 modules of 250 W each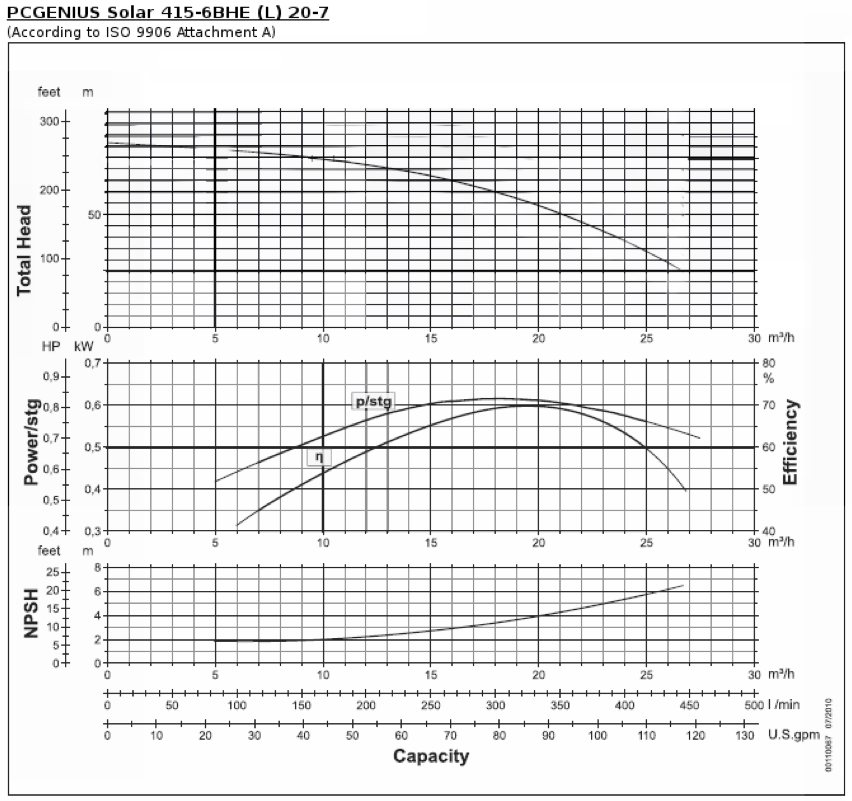 Photovoltaic Power 4250 Watt
With 3 kW Power at motor shaft, one string with 17 PV modules of 250 W each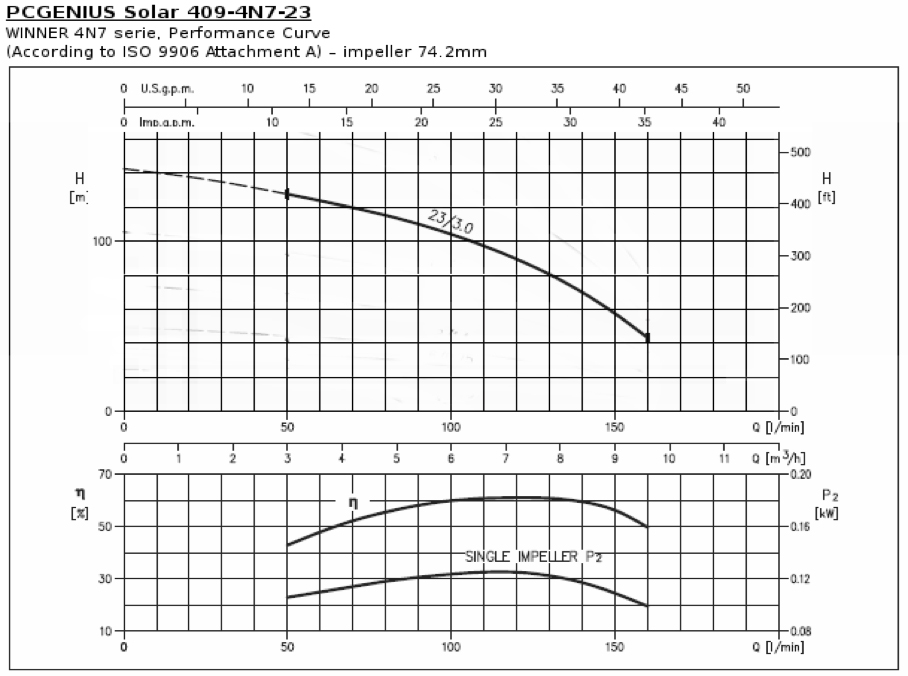 Photovoltaic Power 5500 Watt
With 4 kW Power at motor shaft,one string of 22 PV modules of 250 W each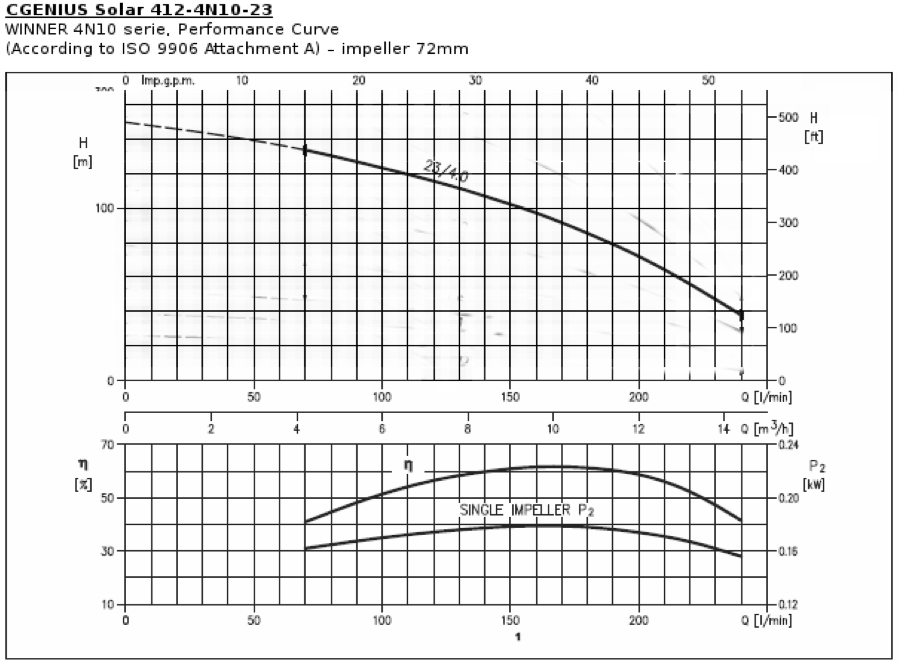 Photovoltaic Power 8500 Watt
With 5.5 kW Power at motor shaft, two strings of 17 PV modules of 250 W each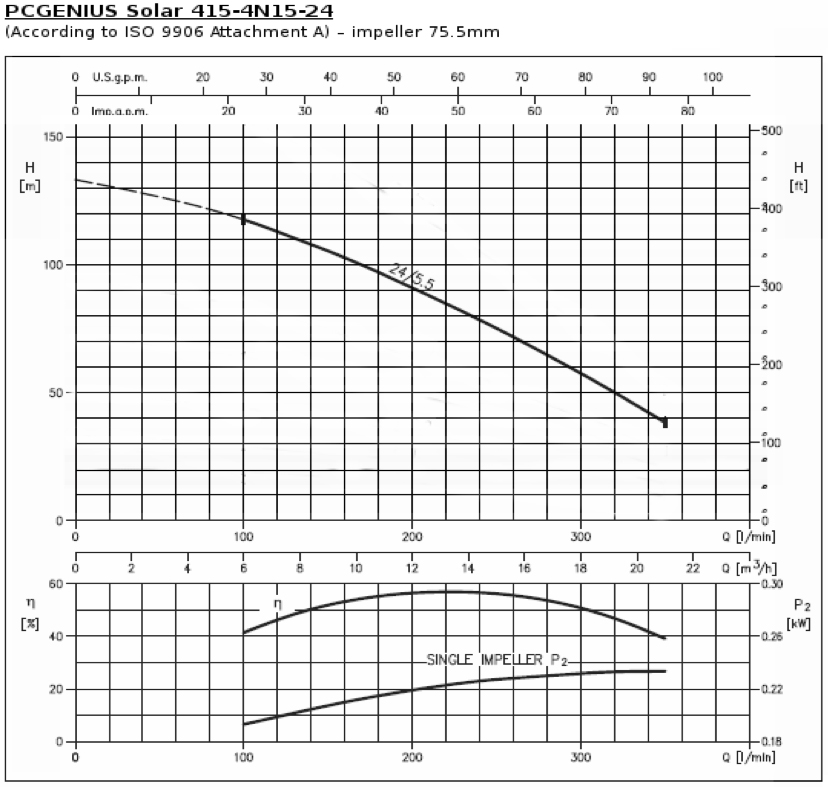 Video
[/three_fourth]